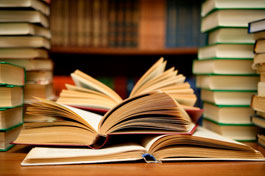 Here's a look at the latest hot fiction and bestsellers recently added to Cowles' collection. Find these new books, as well as others, on the main floor stand at the top of the ramp and in the Cowles Cafe area.
Top dog: the science of winning and losing / Po Bronson & Ashley Merryman.
The Vatican diaries: a behind-the-scenes look at the power, personalities, and politics at the heart of the Catholic Church / John Thavis.
Family trees: a history of genealogy in America / Franðcois Weil.
Bringing Mulligan home: the other side of the good war / Dale Maharidge.
For crew and country: the inspirational true story of bravery and sacrifice aboard the USS Samuel B. Roberts / John Wukovits.
The secretary: a journey with Hillary Clinton from Beirut to the heart of American power / Kim Ghattas.
Mapping Manhattan: a love (and sometimes hate) story in maps by 75 New Yorkers / Becky Cooper.
Ghost dances: proving up on the Great Plains / Josh Garrett-Davis.
The secret lives of sports fans: the science of sports obsession / Eric Simons.
Color blind: the forgotten team that broke baseball's color line / Tom Dunkel.
Golf by the numbers / Roland Minton.
Eco-Business: A Big-Brand Takeover of Sustainability / Peter Dauvergne and Jane Lister.
Whistling Vivaldi: and other clues to how stereotypes affect us / Claude M. Steele.
Law & disorder / John Douglas ; and Mark Olshaker.
Why are professors liberal and why do conservatives care? / Neil Gross.
The force of things: a marriage in war and peace / Alexander Stille.
Superman: the unauthorized biography / Glen Weldon.
Manuscript found in Accra: a novel / by Paulo Coelho.
Capital punishment / Robert Wilson.
The people of forever are not afraid: a novel / Shani Boianjiu.
The boyfriend / Thomas Perry.
A nearly perfect copy: a novel / Allison Amend.
Z: a novel of Zelda Fitzgerald / Therese Anne Fowler.
The flamethrowers: a novel / Rachel Kushner.
Where'd you go, Bernadette: a novel / Maria Semple.
Honor / Elif Shafak.
Frozen solid: a novel / James M. Tabor.
Curiosity: how science became interested in everything / Philip Ball.
Big data: a revolution that will transform how we live, work, and think / Viktor Mayer-Schèonberger and Kenneth Cukier.
Gulp: adventures on the alimentary canal / Mary Roach.
Present shock: when everything happens now / Douglas Rushkoff.