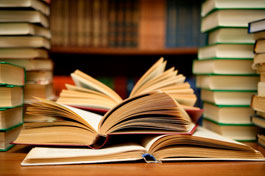 Here's a look at the latest hot fiction and bestsellers recently added to Cowles' collection. Find these new books, as well as others, on the main floor stand at the top of the ramp and in the Cowles Cafe area.
The slow fix: solve problems, work smarter, and live better in a world addicted to speed / Carl Honorâe.
Blindspot: hidden biases of good people / Mahzarin R. Banaji and Anthony G. Greenwald.
The Black Russian / Vladimir Alexandrov.
Above the din of war: Afghans speak about their lives, their country, and their future–and why America should listen / Peter Eichstaedt.
The world until yesterday: what can we learn from traditional societies? / Jared Diamond.
The hour of peril: the secret plot to murder Lincoln before the Civil War / Daniel Stashower.
Better off without 'em: a Northern manifesto for Southern secession / Chuck Thompson.
Here, there, elsewhere: stories from the road / William Least Heat-Moon.
Heat: adventures in the world's fiery places / Bill Streever.
The devouring dragon: how China's rise threatens our natural world / Craig Simons.
Baseball as a road to God: seeing beyond the game / John Sexton with Thomas Oliphant and Peter J. Schwartz.
Detroit: an American autopsy / Charlie LeDuff.
Lean in: women, work, and the will to lead / Sheryl Sandberg with Nell Scovell.
The future: six drivers of global change / Al Gore.
Digital disruption: unleashing the next wave of innovation / James McQuivey.
Fast future: how the millennial generation is shaping our world / David D. Burstein.
Citizenville: how to take the town square digital and reinvent government / Gavin Newsom with Lisa Dickey.
Immigration wars: forging an american solution / Jet Bush
A mission from God: a memoir and challenge for America / James Meredith, with William Doyle.
Raising the curve: a year inside one of America's 45,000* failing public schools / Ron Berler.
For the love of letters: the joy of slow communication / John O'Connell.
The dream of the Celt / Mario Vargas Llosa ; translated from the Spanish by Edith Grossman.
Child of vengeance / David Kirk.
The jackal's share / Chris Morgan Jones.
The Afrika Reich: a novel / Guy Saville.
A tale for the time being / Ruth Ozeki.
Rage against the dying / Becky Masterman.
Ghana must go / Taiye Selasi.
Lady of ashes / Christine Trent.
The Andalucian friend: a novel / Alexander Sèoderberg.
The king of infinite space: Euclid and his Elements / David Berlinski.
Global weirdness: severe storms, deadly heat waves, relentless drought, rising seas, and the weather of the future / Climate Central.
Storm kings: the untold history of America's first tornado chasers / Lee Sandlin.
The age of Edison: electric light and the invention of modern America / Ernest Freeberg.
Grand Central: how a train station transformed America / Sam Roberts ; foreword by Pete Hamill.