Live! at the Drake Library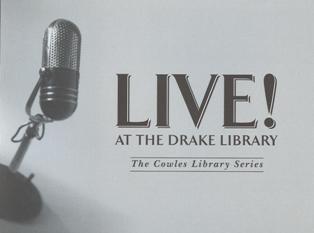 The Live! series began in 2004 as part of Cowles Library's increasing engagement with the Drake and Des Moines communities. We feature events and speakers that share a relationship with Drake University or which relate to one of the Library's many programs.
Recent Live! Events
Patti Miller: An Evening With a 1964 Civil Rights Veteran
October 4, 2012, 7 p.m. Reading Room
Patti Miller is a 1965 Drake alum who has firsthand experience of the Freedom Summer of 1964 when she signed up for the opportunity to go to Mississippi. It was during this volatile summer that northern whites descended upon the south to register blacks to vote, inspire southern youth to get involved in the civil rights movement and to provide educational resources for black youth who were denied such things as libraries. Looking back on that summer, Miller said the effect was tremendous, resulting in passage of the Voting Rights Act of 1965 — federal legislation that came a year after passage of the Civil Rights Act.