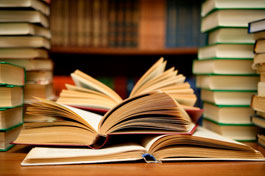 Here's a look at the latest hot fiction and bestsellers recently added to Cowles' collection. Find these new books, as well as others, on the main floor stand at the top of the ramp and in the Cowles Cafe area.
The science of consequences: how they affect genes, change the brain, and impact our world / Susan M. Schneider ; illustrations by Renâe C. Reyes.
Man seeks God: my flirtations with the divine / Eric Weiner.
Jungleland: a mysterious lost city, a WWII spy, and a true story of deadly adventure / Christopher S. Stewart.
Life is a gift: the zen of Bennett / Tony Bennett ; foreword by Mitch Albom.
Red brick, Black Mountain, white clay: reflections on art, family, and survival / Christopher Benfey.
Saul Steinberg: a biography / Deirdre Bair.
The lost carving: a journey to the heart of making / David Esterly.
Jujitsu rabbi and the godless blonde: a true story / Rebecca Dana.
HHhH / Laurent Binet ; translated from the French by Sam Taylor.
Almost never / Daniel Sada ; translated from the Spanish by Katherine Silver.
City of Bohane: a novel / Kevin Barry.
The gone-away world: a novel / Nick Harkaway.
San Miguel / T. Coraghessan Boyle.
The black box: a novel / Michael Connelly.
What we talk about when we talk about Anne Frank: stories / Nathan Englander.
Touch & go / Lisa Gardner.
Enchantments: a novel / by Kathryn Harrison.
May we be forgiven / A.M. Homes.
The devil in silver: a novel / Victor LaValle.
Private Berlin / James Patterson & Mark Sullivan.
The right-hand shore / Christopher Tilghman.
Beautiful ruins: a novel / Jess Walter.
Fobbit: [a novel] / David Abrams.
Too bright to hear too loud to see / Juliann Garey.
Ivyland / Miles Klee.
Snow White must die / Nele Neuhaus ; translated by Steven T. Murray.
Mapping the origins debate: six models of the beginning of everything / Gerald Rau.
Bioethics / Donna Dickenson.
Memoir of a debulked woman: enduring ovarian cancer / Susan Gubar.