October 2013
In this issue . . .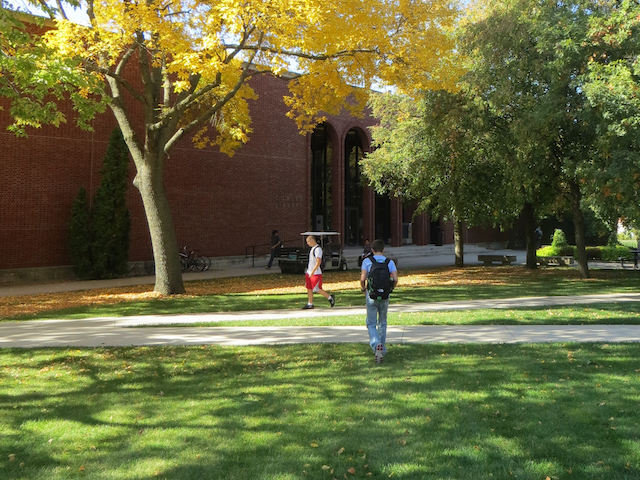 Cowles & FYS
Like all colleges and schools at Drake, Cowles Library is responsible for teaching a certain number of First Year Seminar sections. FYS topics taught by the Library have included sections on diversity, "Drakeapedia," which focuses on primary source research, and "Real Genius," an inter-disciplinary study of exceptional minds.
Beyond the FYSes we teach, however, the library has a large role with FYS. As of 10/14, 40 of the 47 FYS sections have had or scheduled some sort of library session. These sessions range from a partial class period to several class periods depending on the needs of FYS faculty. Of those 40 sections, 14 have scheduled more than one session. That number is significant: nearly 30 percent of FYS sections will have contact with a librarian more than once this semester. Ten of those are committed members of the FYS Information Literacy project, now in its fourth year. These faculty commit to emphasizing information literacy in their courses and each have an embedded librarian. Additionally, each has their students complete a pre-assessment survey and submits copies of student work at the end of the semester for assessment purposes.
For many students, FYS offers the only opportunity for in-class contact with a librarian, not only in their first year, but throughout their career at Drake. Thus, these FYS sessions provide a critical point of contact for librarians to make research services known to students. The Library recognizes that we can't even really begin to teach students all they will need to be successful researchers in a few minutes, but we can exhibit our helpfulness related to their FYS and begin to establish lines of communication.
The Library has intentionally transitioned away from using FYS as a means to teach specific skills and toward introducing students to our array of specific research services. While skills are useful and remain a key part of our instructional efforts, the Library faculty would rather insure that first-year students leave their library session understanding how and when to contact a librarian for assistance with assignments, projects and papers. By shifting our emphasis to the resources and skills students need to complete their assignments in FYS, students immediately understand how this information will benefit them in the short run and throughout their academic careers. Our efforts continue to pay dividends as students increasingly make appointments to work with librarians on their research assignments through Ask a Librarian at libraryhelp.drake.edu.