October 2012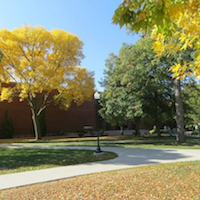 MidTerms Already!?
Dr. Susan Fink – – It has been a busy 7 weeks at the library. Along with the newly renovated lower commons/café area, the After Hours Study Area opened at 1am on Wednesday, September 19th. Over 700 access cards have been processed and the use of the space is continuing to increase as we approach midterm. We anticipate the space to continue to be popular the 2nd half of the semester.
The library has also been busy with other activities/events in the first 7 week which included: hosting a national traveling exhibit, Freedom Riders and presenting 3 lecture events featuring – Stanley Nelson, Eric Etheridge, and Patti Miller. The library was also the location for President Carter's informal Bucksbaum event, 7 student senate meetings, 2 faculty senate meetings; numerous administrative meetings and admission events.
What is in store for the 2nd half of the semester?
Co-Editors:
Rod Henshaw, Dean Cowles Library
Carrie Dunham-LaGree, Librarian for Digital Literacy
Claudia Frazer, Coordinator, Digital Projects
Marc Davis, Special Projects Officer
Lower Commons/After-Hours Dedication
The new Lower Commons / After Hours Study was officially dedicated on October 5 during the Board of Trustees luncheon at Cowles Library. The Board and its guests assembled in the Commons space for dessert and the dedication. The generous contributions of the Cowles Foundation, Kruidenier Foundation and Trustee Mark Ernst were recognized in the ceremony.
Speakers included Rod Henshaw, Dean of Cowles Library; Amanda Laurent, Drake Student Body President; Charles C. Edwards, Dean, College of Business and Public Administration and School of Journalism representing the Cowles Foundation.  Ms. Lisa Kruidenier was a special guest.
Already a popular study space, the Lower Commons / After Hours space provides a valuable service to Drake students.
President Carter at Cowles
Claudia Frazer — Jimmy Carter, former U.S. President and Nobel Peace Prize Winner, and his wife Rosalynn visited with students in the Reading Room on Thursday, September 13th. Several students, who had received funding from the Slay Fund for Social Justice, spoke about their summer service learning projects. The Slay Fund for Social Justice at Drake University was started by a gift from Brent, ED '70, and Diane, ED '70, Slay.  The Fund which they have established is designed to support programs advancing social justice at Drake.
Web Of Science Events on October 19
Priya Shenoy — A Web of Science representative will visit campus the morning of October 19th in Cowles Library Room 201. Please join our conversation about this great new interdisciplinary database that indexes over 12,000 peer reviewed journals in the Arts and Humanities, Social Sciences, and the Sciences.  We'll also be discussing Journal Citation Reports, a journal performance metric that provides statistical information on the impact of specific journals in their field.
This event will be free for all students, faculty, and staff.  Additionally, we will also hold a raffle with special prizes! Come and join us!
October 19th, 2012
Cowles Library
Room 201
10am – 11am:  Web of Science Overview
11am – noon – Journal Citation Reports
Sustainable Collections Initiative
Teri Koch — The library has engaged the services of Sustainable Collection Services (SCS). As part of our ongoing series of renovations and changing nature of scholarly information access, the book collections will be analyzed in terms of space, purpose, and accessibility.
The Cowles Library Master Plan calls for identifying CORE and RESEARCH materials in library collections. A small, regularly used collection in the open stacks will be designated as the CORE collection. The RESEARCH collection will consist of lesser used materials retained on site in compact shelving for easy access by Drake users.
Sustainable Collection Services is tasked with insuring that decisions are data-driven and shaped to Drake's research environment. The team will also hold workshops so the Drake community can learn about and participate in the decision processes.
Notes
Schedule a reference interview!
Our extensive Library Help web site now offers a web form for scheduling one-on-one consultation with a librarian for research assistance.
---
New Service Desk
In keeping with our "flexible" philosophy, the height-adjustable desk can easily roll to other areas in the Library.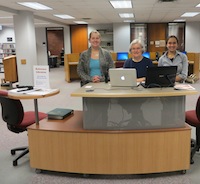 ---
Spring Classes Announced
LIBR 046: Information Literacy, Professor Karl Schaefer
LIBR 072: What's Up Doc? An Information Literacy Exploration of Documentary Film, Carrie Dunham-LaGree
LIBR 099: Copyright Issues in the U.S., Marcia Keyser