August 2012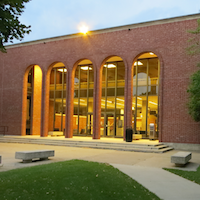 Welcome!
Welcome to a new academic year – and the first Cowles Newsletter of the fall semester! This edition of the newsletter highlights a number of new resources, programs and services. Topping the list of new projects is the newly renovated Lower Commons and Extended Hours study area. We're going to do a "special edition" on the renovation in September.
Another significant arrival is Web of Science. This is a major scholarly resource that we have finally been able to license and provide access to for the entire Drake community. There are also technology developments, cultural programming, and new additions to the library faculty and staff. Keep checking the library main page for additional information and awareness updates on library resources, services and activities.
— Rod Henshaw
Co-Editors:
Rod Henshaw, Dean Cowles Library
Carrie Dunham-LaGree, Librarian for Digital Literacy
Claudia Frazer, Coordinator, Digital Projects
Marc Davis, Special Projects Officer
Web of Science (Web of Knowledge)
Cowles Library is pleased to announce a new database: Web of Science (Web of Knowledge). This database focuses on the Sciences, the Social Sciences, and the Arts and Humanities. Its coverage dates back to 1900 and includes over 12,000 indexed journals.
The Web of Science (Web of Knowledge) is a powerful tool that allows you to examine and evaluate your results in two important ways, through the "Analyze Results" and the "Create Citation Report" links. "Analyze Your Results" allows you to create graphs of data on your results, according to Author, Country/Territory, Languages, Grant Number, Research Area and much more. "Create Citation Report" allows you to view when and how many times your results have been cited by other articles.
iPad Initiative
During the summer of 2011, Drake faculty and staff engaged in a discussion on Work/Life balance based, in part, on a reading of the book The Way We're Working Isn't Working.
Ideas related to the concept of "working smarter" became a discussion thread at the Library.  We began to focus on mobility and connectedness throughout the work day.
In spring 2012, at Dean Henshaw's direction, we undertook an initiative to provide all staff and faculty with iPads and a small set of apps. Oriented initially toward individual use,  the iPads will also be used frequently in instruction – particularly in the sciences, pharmacy and education.
Priya Shenoy
Priya Shenoy joined our Faculty in June 2012. She holds a bachelor's degree in Nursing and a Master's in Library and Information Science from The University of Pittsburgh School of Information Science concentrating on Health Resources and Services. She worked as an intern for the University of Pittsburgh health library system and at Duquesne University's Gumberg Library.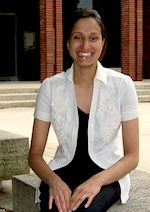 Priya is excited to use her library experience and her nursing background to help serve the Pharmacy, HSCI, and Sciences students and faculty. This fall, Priya is helping to teach Drug Information skills in the PHAR 184 class with Professor Sally Haack.
Coming Soon!
Lower Commons / After-Hours – upcoming events & a special newsletter will highlight the first phase of our comprehensive learning commons renovation.
Save these dates: September 14 for an Open House, and October 5 for the formal dedication.
---
Cowles hosts a national traveling exhibit about the Freedom Riders of 1961 from September 11-October 9. A series of guest speakers will speak about their personal experiences with this historical event. Visit our special Freedom Riders research guide to learn more.
What's New?
Classroom 45: We renovated room 45 into a classroom supporting multiple teaching styles. Take a look!
---
E-Reserves: A new e-reserves service offers a more user-friendly interface, a lower cost and now includes the ability for instructors to manage their own e-reserve materials.
---
New Chat Service: Our popular Ask a Librarian site sports a new chat wizard with many new features!
---
New YouTube channels:
Cowles Activities – news & events.
Cowles Reference – instructional & reference videos